Floating Walnut Bar Shelves
Floating shelves are extremely popular and it's not a surprise due to the clean look of no brackets. Typically floating shelves are made of wood and the wood becomes a focal point. Why are floating shelves so popular?  Obviously they offer a very clean look, but they are also incredibly flexible in where they can be installed. They can be built for a wide range of applications from kitchen open storage to bar shelving to feature shelving in a living room.
I decided I wanted to upgrade the shelving in my home bar area to showcase my bourbon collection and provide a bit more bottle storage than my previous pallet shelves that I built a few years ago. The pallet bottle shelves were a bit too rustic looking for my like and they didn't hold enough bottles.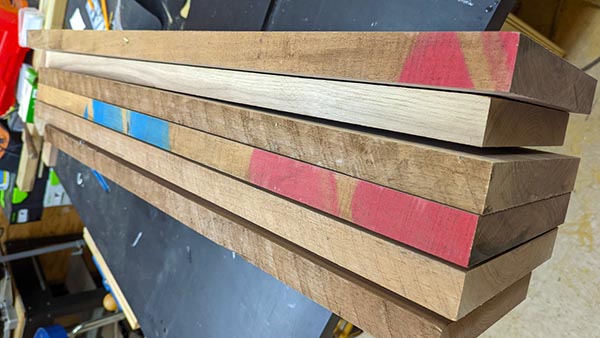 Thick Walnut Floating Shelves
For this project I wanted something a bit more elegant and clean looking. I decided to build the new floating shelves from Black Walnut. Most floating shelf brackets require a fairly thick piece of wood. For this project I ordered 8/4 Black Walnut knowing that by time I planed the material down I would have at least 1-1/2″ of material left over (most brackets require 1-1/4″ to 1-1/2″). You can buy thick hardwood material like this at a local lumber yard occasionally or at a specialty lumber yard. Another option, and the route I went was buying it online as there are many sources to choose from.
The first step in building the Walnut Floating Shelves was planing down the Walnut so all the shelves were a consistent thickness and had relatively smooth faces. I did this by running each piece through the DEWALT thickness planer, then lowering the planer a smidge and running them all through again. I did this for both sides and 4 times on each face resulting in the smooth boards shown above.
After planing all the boards the next step is ripping them all down to a consistent width on the table saw. The boards I purchased already had a straight line rip on one edge so it was fast running them all through the table saw. I also took a small bite out of the straight line rip side to be sure the edges were free of damage from shipping. And lastly all the boards were cut to length at the miter saw.
Sanding – Hand Sanding Makes a Difference
When finishing hardwood projects the sanding process is one of the most important steps. Skipping on this process will leave you frustrated and likely unhappy with the final results. Over the years I've come to the realization that any time I can hand sand a project the end results are much better. I've found that using random orbit sanders can be very unforgiving and result in swirl marks in the final finish.
For this project I started out with 120 grit sand paper using a rubber hand block and sanded all 6 sides carefully. I followed this up with 150 grit, 180 grit and finally 220 grit. I opted to just slightly ease the edge as little as possible to maintain a really square appearance to the shelves. Before finishing this process I wiped down all the surfaces with denatured alcohol to clean the surfaces and also check for any imperfections.
Adding Color with Stain
Walnut has a beautiful dark color naturally and just putting a clear finish on it would be beautiful. For this project I wanted to bring that dark color out a bit more and help even out some of the heartwood. So I opted to use Watco Danish Oil in Dark Walnut to really enhance the finish on these shelves. I applied two coats following the manufacturers directions and allowed the shelves to dry completely for 24 hours.
Clear Top Finish – Water Based Satin
For this project I used a clear satin finish. I used General Finishes High Performance Water Based Top Coat in Satin.  This product is incredibly easy to use and so much easier than a oil based urethane. Simply brush it on with a foam brush and let it dry for a couple hours. Then lightly sand with 400 grit sand paper and reapply. I put 4 coats on and couldn't be happier with the final finish.

Floating Shelf Brackets
The magic of floating shelves happens with a hidden bracket. There are quite a few different types on the market and each has benefits depending on the type of shelf being built. I needed a bracket that would hold a lot of weight and support a deep 8″ shelf. I used EVALD heavy duty brackets that you can buy at Amazon HERE. These are secured to the wall with screws and anchors (depending on if you can hit a stud, masonry or using a drywall insert). Each bracket can hold up to 150 lbs which was perfect for holding wine and alcohol bottles.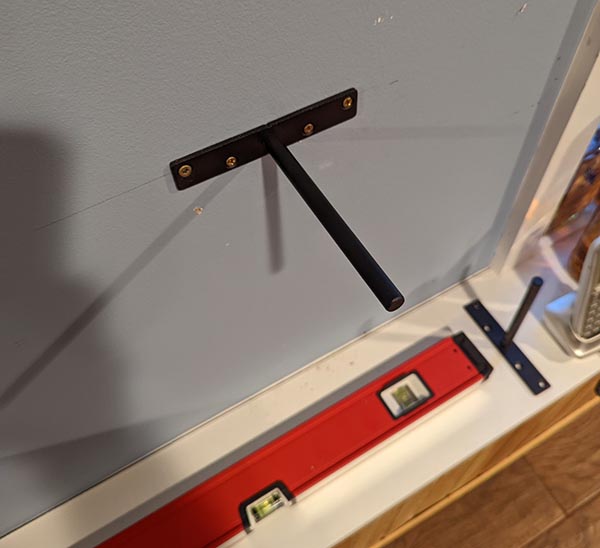 I used two brackets for each shelf and made sure at least one 3″ screw hit a stud, and then used drywall anchors for the other holes. The bracket has a 1/2″ steel rod on it that fits into the back of the shelf. Each shelf must be drilled with a 1/2″ hole at least as deep as the rod. It's best to use a drill guide to ensure the holes are parallel to the shelf surface. It's absolutely critical that you take many measurements to ensure the brackets will fit in the holes.

Finished Product – Walnut Floating Shelves
Once all the brackets are installed the Walnut shelves were simply slid onto the bracket rods and that's it. The design is really simple yet elegant.