OLFA Snap Off Blade Utility Knives
Over at Tool Box Buzz we are always searching for new tools or solutions to highlight to our readers. In this case we are exploring Utility Knives and checking out a deviation from the ever popular quick change two-sided utility blades and knives.
The snap off blade knife is often viewed as a light duty, almost throw away tool. This is NOT the case with the superior quality blades and rugged construction of the OLFA line of snap off blade utility knives, the creator of the snap-off blade!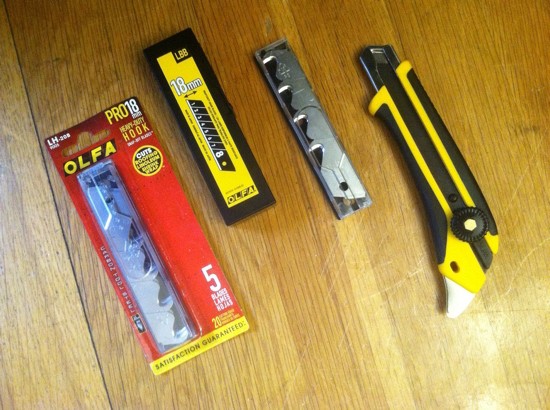 OLFA blades and knives showcase very intentional designs, a variety of sizes, and well developed accessories to create a line of utility knives for all sorts of construction applications that just might make you rethink whether the traditional utility knife is cutting it for you on the job.
OLFA
OLFA was founded in 1956 by two brothers who were inspired to create blades with scored lines to reveal new sharp edges with each snap.

Recalling the lines on chocolate bars given to them by Allied soldiers and frustrated by how quickly the blades they used became unusable once there edges wore out, these Japanese brothers developed the scored blades that easily snap off for a fresh sharp edge in seconds!
Not only is OLFA the innovator of the snap off blades well entrenched in many industries, but when it comes to blades specifically, Japanese steel is tough to beat, so we were excited to see what OLFA has to offer the construction industry.
We've been using a variety of OLFA utility knives, replacement blades, specialty blades, and accessories for a variety of different tasks and we are quite impressed!
Utility Knife
As a utility knife OLFA really delivers with a blade specifically designed for industrial tasks. The OLFA BB line of blades are ultra sharp, designed for heavy duty applications, and nothing is faster than a snap to restore a sharp edge. The performance and speed of these blades are invaluable in the field.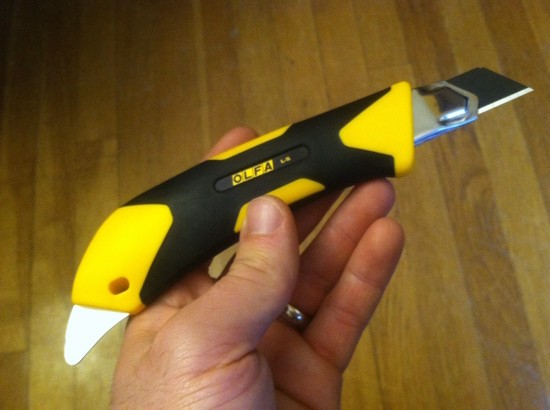 Furthermore the longer blade hone provides a cleaner finish, which as a finish carpenter I love for scoring lines for complicated mortises on hardware installs. I also appreciate the heavy duty stainless steel blade channels on the the LA-X and XH-AL models.
Blade Lock and Handle Configurations
The products we tested from OLFA consist of what we consider two core varieties of blade locks. A ratcheting configuration with a wheel adjustment that allows you to customize the tension, up to a secure lock, on the slide of the knife to release and retract the blade. And an auto lock configuration with a smooth slide tab that features consistent positive stops.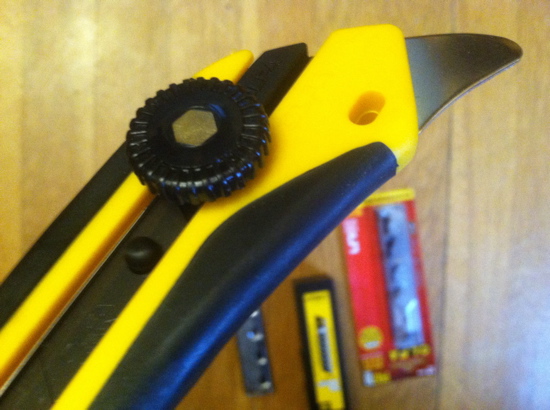 All of the knives we reviewed featured tool less blade change and the 9mm lighter duty knives integrate a snap off tool in the handle for convenient and safe snapping.
OLFA also offers a variety of solutions for safe storage of spent blades.
Applications
First and foremost OLFA offers a wide range of blade types, blades sizes and a myriad of different knives to suit many different disciplines; from the light duty needs of painters to the heavy duty demands of roofers. In a very short amount of time our professionals found many applications where the snap off blade utility knives and accessories shined.
The heavy duty BB series of blades can be extended well past what you can expect from a traditional utility knife, and the 18mm/25mm blades are strong enough to be effectively used with the blade exposed a few inches. This extended blade is great for cutting various types of insulation, from fiberglass to roxul, avoiding making many passes to complete one cut.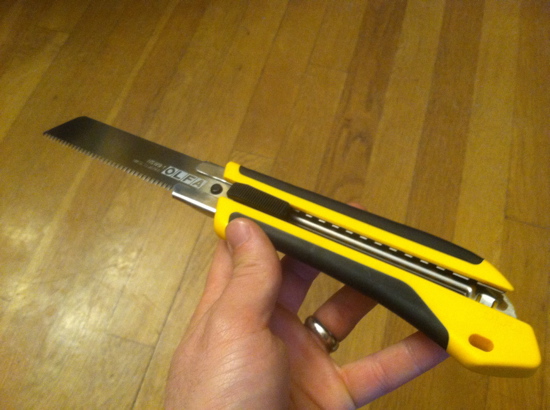 The HSWB Saw Blade for the 25mm blades are effectively used as a small flush cut saw. And the Japanese steel really shines in this blade, exceptionally sharp and extremely effective, making this small blade pack a big punch. Blade change is simple enough, but in my opinion, it is best to have a dedicated handle for the saw blade. It's small enough to keep in your belt, but effective enough that you'll find yourself use it when a utility knife just isn't enough.
There is an 18mm LH-20B Hook Blade that combines the efficacy of a hook blade with the convenience of a snap off replacement for cutting shingles, carpet, or rope. I've particularly become fond of hook blades for removing selective portions of ramboard from a finish floor. The hook is really useful preventing a scratch to the floor surface, while ensuring an accurate cut to safeguard as much floor as you can.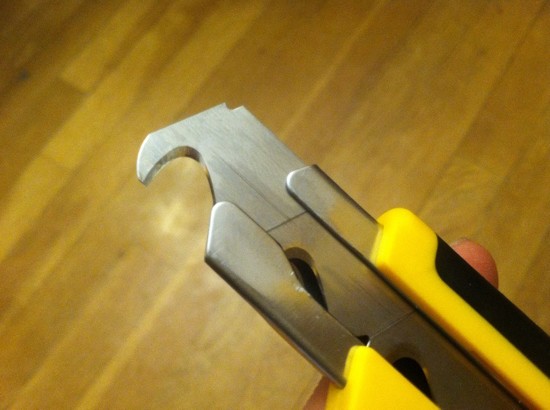 Overall Impression
My favorite knives we looked at from OLFA were the 25mm Extra Heavy Duty XH-AL and the 18mm Heavy Duty LA-X, both with an autolock handle configuration. My overall impression of the 25mm XH-AL was that it could easily replace my current utility knife and compared to a fresh blade, the OLFA snap off blades provide a superior cut.
The Extra Heavy Duty 25mm XH-AL has a reinforced handle, anti-slip rubber grip, with acetone resistant handle material. It comes pre-loaded with the 7-segment ultra-sharp snap-off blades. I put this knife through some rough and tumble applications and despite the sleek and light build of the knife, it definitely can handle inclement job-site conditions.
The 18mm Heavy Duty LA-X includes the same features as it's 25mm brother, but can accept a solid blade and hook blades for additional functionality. Also the tool itself includes a staple remover at the base that can be useful for a number of different applications.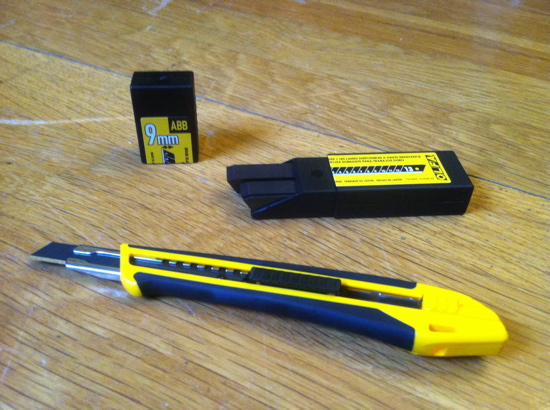 Overall what we found when taking a look at OLFA and it's wide range of knives and blades, is that if you need a certain blade, in a certain knife, for a certain application you can most certainly expect to find what you need from OLFA. Check them out!